Small

in stature, not in

mission

Don Burleson holds Trip, a one-year-old stallion. Trip is one of the smallest horses on the Burleson's farm.
Horses trained to guide the blind
By Al Wheless, The Daily Dispatch, Henderson, NC, November 19,2000
Kittrell - Cuddles, Trip, Squeeze, Silly, Muncher, Nevada, buckshot, and Dixie. Sounds like a line up to guide the sleigh, but these 10 tiny equines are being trained to guide the blind. They are considered rejects in the horse world because of their physical imperfections that prevent them from being shown in competition.
But Don and Janet Burleson are giving the little horses a chance to rise to a higher purpose on their farm in Kittrell. After a year's training -- which includes learning 25 commands and riding on escalators -- they will be able to help blind people get around and be more independent.
And they will make history.
They are being readied to be the world's first guide horses. The Guide Horse Foundation, which was established by the couple two years ago, plans to give the little stallions and mares free of charge to those who need them. The horses learn fast, have phenomenal memories and possess excellent vision that is almost 350 degrees. They like to be around humans, can adapt to stressful situations quickly and are able to sense danger.
Cuddles is destined to become the first guide horse placed into full-time service. She will be a personal guide for 44-year-old man in Ellsworth, Maine. Her trainers believe she will be the only guide companion the man will need in the future since Cuddles is expected to live to be 25 to 30 years of age, or older.
No bit or other type of force is used to teach the horses. "The key to training is repetition, according to Janet." "As long as it trusts you, a horse will do what you want it to do once it realizes what it is you want it to do. "
One of the things the horses will learn is to ignore their owners commands if they appear to be incorrect in potentially harmful situations. Examples could include a hole in the ground or a looming overhang. Even while still awaiting graduation of most of the first trainees, there is already a tremendous demand from applicants for guide horses, Janet said.
The Burleson are in their mid-40s have been married for three years. They won't tell you where to buy the horses for pets because they are concerned for their welfare. The couple gets some of them from breeders. "We see many cases where tiny horses have been killed by dogs, starved and otherwise neglected after the owners lost interest in them," Don said.
The guide horses range in size from 40 pounds to 100 pounds, and up to 28 inches high.
Nevada will be trained to pull wheelchairs and guide at the same time. All of the blind people who become owners will stay on the farm for three weeks to learn how to use and care for their animals.
Training is free for the applicants because Janet donates her training services. Charges for transportation of the owners and the animals for training purposes are also absorbed by the foundation. The horses are donated to the foundation by corporations and private individuals.
Bred for centuries, small horses were used to haul coal in mines in Wales 300 years ago. Louis XVI of France was said to have had one of this size as a novelty animal.
Out in public
Some of customers of the Tip Top Restaurant did a double take recently when they saw a horse wearing children's shoes walk through the front door. A few of the regulars knew it was Cuddles, because she often rides to the restaurant in the Burleson's green Dodge Caravan. She stretches out on the floor while they eat breakfast.
Owner Mrs. Eddie Short and several Tip Top employees greeted Cuddles outside on the sidewalk. They talked baby talk to her and rubbed her head.
Tip Top Restaurant owner, Mrs. Eddie Short greets Cuddles during a training session. Janet Burleson and her husband Don established the Guide Horse Foundation to train the horses to guide the blind.
"We Love Her", Short said. "They have her under complete control and put her under the table. We let them take her out and walk her where people can see her. I'd like to have one to stay at home and give my pet parrot something to talk about. " The work the Burleson's are doing with the horses is so good, Short said. "Customers and the employees talk about her. They think the shoes she has on are fantastic."
Since she is expected to grow another 10 pounds or so, Cuddles is yet to get real shoes that are molded to her feet. With the time comes for that, detailed measurements of her hooves will be taken. "We get plenty of looks when we go into a shoe store and buy two pairs of children shoes the same size," Don said. " We once bought a whole bag of shoes in different sizes to try them on, " Janet said. "The people in the store must've thought we have a lot of kids. We weren't sure what size to get. " A pair of shoes lasts a guide horse about six months.
Cuddles is well-behaved in public places like the restaurant. "She is a completely different horse when you put the harness on her, " Don said. "She was out galloping this morning, whinnying and doing what horses do. "
Leon Poythress, one of the customers inside the Tip Top, told Burlesons he had only seen anything like Cuddles in the funny papers. " I'd like to have one of these little Fellers to play with," he said.
"When we are on slick floors, we slide her out from under the table and then slide her back," Don said. "She doesn't mind, do you, Dear? She's a good horse. "
Cuddles cools it while her trainers have breakfast at Tip Top Restaurant in Henderson. The horse is taken in many public places as part of her training. At restaurants she lies down under the table until it is time to leave.
It takes a lot of training for Cuddles and her fellow guide horses to learn to lie quietly under tables, Don said. Cuddles is scheduled to graduate next summer.
When the Burleson's and Cuddles started to leave the restaurant to go to their farm, Short appeared over the counter and said "Please bring her back."
Famous Friends
Patricia Cornwell, a best-selling writer of crime novels, donated Cuddles, Trip, Squeeze, Silly, Muncher and Nevada to the program. Don said she sometimes flies in her helicopter from her home in Richmond Va. to the farm to visit all the horses and see how the training is going.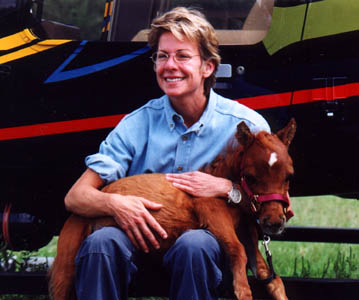 Patricia Cornwell holding Trip, one of six horses she donated to the Guide Horse Foundation.
Cornwell thinks the program is good for blind people and for the horses, Don said when asked why she made the donations. "She thought it was a good idea. She gives millions to charities and she loves animals. "
In her next book, Cornwell plans to present a blind character who uses a guide horse to get around. For research, Cornwell put on a blindfold and walked with a guide horse at Crabtree Valley Mall in Raleigh.
The little horses gather at the hay bale on the Burleson's farm. These small equines can live at least 25 to 30 years and are being trained to be guide horses for the blind.
Getting started
The concept of using dog-sized horses to help the blind was originated and developed by the Burlesons. Living on their farm is Twinkie, a small horse who was a prototype for the program. "We used Twinkie to develop our program," Janet said. "She is pretty much retired now and is our personal pet. She is a big husky kind of girl. She is too heavy to be used as a full-time guide. "
Janet Burleson spends a moment with Twinkie. She is the first horse trained to be a guide horse. Twinkie is the Burleson's pet.
Training
"Janet has been training horses most of her life, so she is familiar with what they are capable of, " Don said.
He writes computer training books at home, which gives him time to help Janet with the horses. "This is play," Don said. " I just shovel horse pooh and groom them." What Don does is very necessary, according to Janet " He gets the horses be used to be touched and being around people. They are like deer when they come out of a big herd and haven't been handled. "
The horses learn to be housebroken and scratch on the door with their hooves when they need to go outside to relieve themselves, Don said. Their solid waste products are smaller than those of a similarly-sized dog, and disintegrate quickly within a day since they contain mostly straw, he added.
The vet bills for little horses the same as those for big ones because there's no discount for size, Don said.
Bluebell, who has deformed hooves, is a new arrival on the farm. She is getting some help from Danny Harmon, a farrier who lives in Norlina, and Chris O'Malley, a veterinarian who lives in Warrenton. Chances are Bluebell will not get to join the Guide Horse program because she will not be able to pass the physical certification. She was donated to the foundation by her owner who could not afford the care required to give Bluebell a chance for a quality life.
Farrier Danny Harmon reshapes Bluebells hooves while the little horse is held and comforted by Jeffrey Harmon. Veterinarian Chris O'Malley watches the procedure.
"She (Bluebell) will grow a brand-new foot," O'Malley said. "We're trying to guide her in that direction. We're going to cast her legs down to her hooves and make the cast into splints because her joints are so weak." Most of his patients are full-sized horses, according to O'Malley. "This is the biggest small horse farm I've worked at."
Handling is the main difference when it comes to large and small horses, O'Malley said. "We use the same drugs and vaccines (for both). "
When Bluebell was growing up, her feet were not kept trimmed in the way they were supposed to be, Janet said. "They grew crooked and twisted. We expect to take at least six months of continual work to get them straightened back out." The Burlesons are taking before and after pictures of Bluebell in hopes that O'Malley will publish them in a prominent veterinary journal.
The horses are already famous.
The guide horses were on "Ripley's Believe It or Not" last March. And CBS is one of the few major television networks they have not been on. "Publicity helps get the word out about what we're doing, " Don said.
For more information or to make contributions, call the Guide Horse Foundation at 252-433-4755 or see their web site at www.guidehorse.com .