Using horse sense to guide
A blind Maine man will rely on equine assistance
By Tatsha Robertson, Globe Staff, Globe Correspondent, 11/19/2000

LLSWORTH, Maine - Dan Shaw hid his blindness for years: He would walk into a bar, bump into tables and spill drinks on the way. The bartender, believing he was drunk, would shut him off before he sat on a stool. Too ashamed to admit the truth, Shaw would apologize and walk out the door.
''I was in that much of denial,'' he said.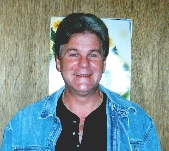 Dan Shaw of Ellsworth, Maine
Even with pleas from his wife and his doctor to spare more bruises to his body by getting a guide dog, the 44-year-old tackle shop owner resisted. It wasn't until Shaw heard about a peculiar and quirky alternative - a miniature horse named Cuddles - that he relented.
Come spring, Shaw will be what advocates say is the first blind person in the country with a miniature horse as a full-time personal guide. Just 22 inches tall and 50 pounds in weight, Cuddles is one of 10 tiny horses being trained by a North Carolina couple to be guides for the blind.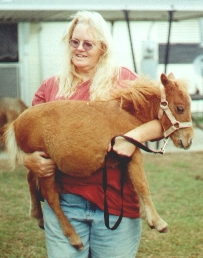 Janet Burleson and Cuddles
Wearing little sneakers on her tiny hoofs, the female horse will lead Shaw to the local drugstore, his roadside mailbox - even through a crowded mall. She is taught to protect him from a moving car and warn him of a low swinging branch. She'll sleep in the house and peep out the windows of their Explorer as Shaw's wife drives to see relatives in her husband's hometown of Lynn, Mass.
And, when she has to relieve herself, said Janet Burleson, who trains the horses with her husband, Don, in Raleigh, Cuddles will just walk to the front door and neigh.
Why rely on a horse when there are so many expertly trained dogs out there? Trainers say the biggest advantage is durability: The average miniature horse will live to 40, three times longer than most guide dogs. Also, because of the positions of their eyes, horses have much wider fields of vision than dogs, said Burleson, adding that they can see nearly 350 degrees.
But for Shaw, who lives with his wife in a small tan house on a country road in Ellsworth, the main appeal is having his own distinctive way of dealing with his disability. ''It's the only thing that has gotten me over the hurdle of admitting my blindness,'' he said. ''It sounds crazy but it's true.''
The idea of using miniature horses as guides was sparked on a trip to New York City, said Burleson, cofounder of the nonprofit Guide Horse Foundation. Her husband's job as a computer consultant often led them to Manhattan; as they rode in a horse-drawn carriage through Central Park on one trip, they noticed the horses had a strong sense of direction and an ability to adapt to city traffic patterns. They also knew that back home in North Carolina, their pet miniature horse Twinkie was as friendly, focused, and good-natured as any dog.
''She'd just stand between Don and I in the minivan looking out the window. If she got tired, she'd rest her head on our shoulder. She was our inspiration,'' said Burleson.
The Burlesons began training their miniature horse to be a guide and eventually added nine more, most of them donated. The training focused on repetition, so that riding an elevator and walking through a mall became second nature to Twinkie, Cuddles and the other horses. The Burlesons are actively fund-raising, with the hopes of training and placing scores more guide horses in the coming years.
In March, Shaw and his wife were sitting in their Maine living room filling out applications for a guide dog when they came across a story about the Burlesons and Twinkie on the cable TV show ''Ripley's Believe it Or Not.''
Shaw, whose remaining sight is the equivalent of looking through a tiny pinhole, has a magnified television and could only see a blurred version of the tiny horse on the TV show. But instantly, he said, he knew it was what he had been searching for.
''It was like an omen in a way,'' said Shaw. ''I couldn't believe it.''
Shaw realizes that when he starts walking around his small town with an itty-bitty horse beside him, it might strike his neighbors as strange. But his life has always been on the unusual side.
During his first marriage, he said, he waited a year before telling his wife that he was going blind. His second wife, Ann, a hospital worker, said she knew early on about his blindness, but still she felt unsettled.
''I panicked if I hadn't heard from him. After years went by, I learned he could do everything himself,'' she said.
They raised two boys and girls from their previous marriages, who are now adults with their own children. Through those earlier years, Shaw found hundreds of jobs, from a store detective to a lift operator. But his sight continued to go and so did the jobs.
Although Shaw said all of his vision will likely disappear soon, he remains independent. He's landscaped the back of his home, creating what he calls a miniature Boston Common. But slowly, he is beginning to accept the inevitable. Recently, he completed study at the Carroll Center for the Blind in Newton. And he now walks with a cane or holds his wife's elbow. Most of his time is spent in the bait shop located outside his house.
''It doesn't make me a lot of money,'' he said, ''but it makes me feel good about myself.''
Shaw believes his whole life will change when Cuddles comes into his home. In his mind, he can see it: He is freely walking through town or to the grocery store with the little horse leading the way.
Globe correspondent Donna Gold contributed to this article.
This story ran on page B01 of the Boston Globe on 11/19/2000.
© Copyright 2000 Globe Newspaper Company.